UNIVERSAL DATA DISTRIBUTION
Moving enterprise data from any system to any destination, made easy
Webinar | Wednesday, 19 October | 3:30 – 4:30PM IST
We often hear about the proliferation of data from mobile apps, IoT, enterprise apps, industrial systems, etc., resulting in the exponential growth of data created. What is less frequently mentioned is that organisations have also seen a rapid increase in places where this data needs to be delivered and consumed. These include data lakes, lakehouses, cloud warehouses, cloud streaming systems, cloud business processes, and so on. Use cases demand that data no longer be distributed to just a data warehouse, but to a diverse set of data services across cloud providers and on-prem.
What emerges is the need for a Universal Data Distribution (UDD) service, that connects to any data source, anywhere, and then distributes that data to multiple destinations at any frequency (real-time streaming, batch, etc.) This is achieved through the creation of 'data pipelines' that ingest data from various sources, transform that data, and deliver it to one or multiple destinations.
3:30 – 3:35PM
Introduction and opening remarks
Piyush Agarwal, Head of Pre-sales, Cloudera
3:35 – 4:20PM
Universal Data Distribution to connect data from any source to any destination
Gaurav Jain, Sales Engineer, Cloudera
4:20 – 4:30PM
Q&A & closing remarks
WHY SHOULD YOU ATTEND
Learn how Cloudera DataFlow (CDF) enables enterprises to connect to any data source anywhere
Demonstrate how new data flows can be quickly built using a no-code flow designer or easily customized from pre-built flow templates
Discover how CDF streamlines operations to deploy, manage, monitor, secure, and auto-scale data flows in production
Find out how CDF standardizes tools for reusability
Understand how CDF simplifies & accelerates onboarding and managing of new data sources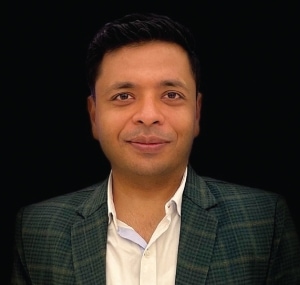 Gaurav Jain
Sales Engineer
Cloudera
Gaurav Jain, an Alumni of BITS Pilani and IMT Ghaziabad, is the Architect and Designer of Platforms for Big Data Analytics and IoT solutions like Connected Assets, Smart Supply Chain, Connected DataCenter, Smart Shipment Tracking, Smart Food Freshness Systems etc. He is actively engaged in the Big Data \implementation projects and helping customers in designing their Analytics landscape that requires very high scalability. Experienced in designing and developing the Data Science and Machine Learning use cases like Market Basket Recommendation Engine, Predictive Analytics for machine downtime etc.He is Microsoft certified Cloud Solution Architect Expert, Sun Certified Java Professional, University of San Diego Certified Big Data Specialist, ITIL v3, Green Belt in Process Improvement, PTC Thingworx certified IoT Architect.
ABOUT CLOUDERA
At Cloudera, we believe data can make what is impossible today, possible tomorrow. Only Cloudera delivers a hybrid data platform with secure data management and portable cloud-native data analytics. We empower people to transform complex data anywhere into actionable insights faster and easier, enhancing their businesses and exceeding their expectations. Cloudera is leading hospitals to better cancer cures, securing financial institutions against fraud and cyber-crime, and helping humans arrive on Mars — and beyond. Powered by the relentless innovation of the open source community, Cloudera advances digital transformation for companies around the world, making data and analytics easy and accessible for everyone.